Here's Johnny II
Presented by AA Promotions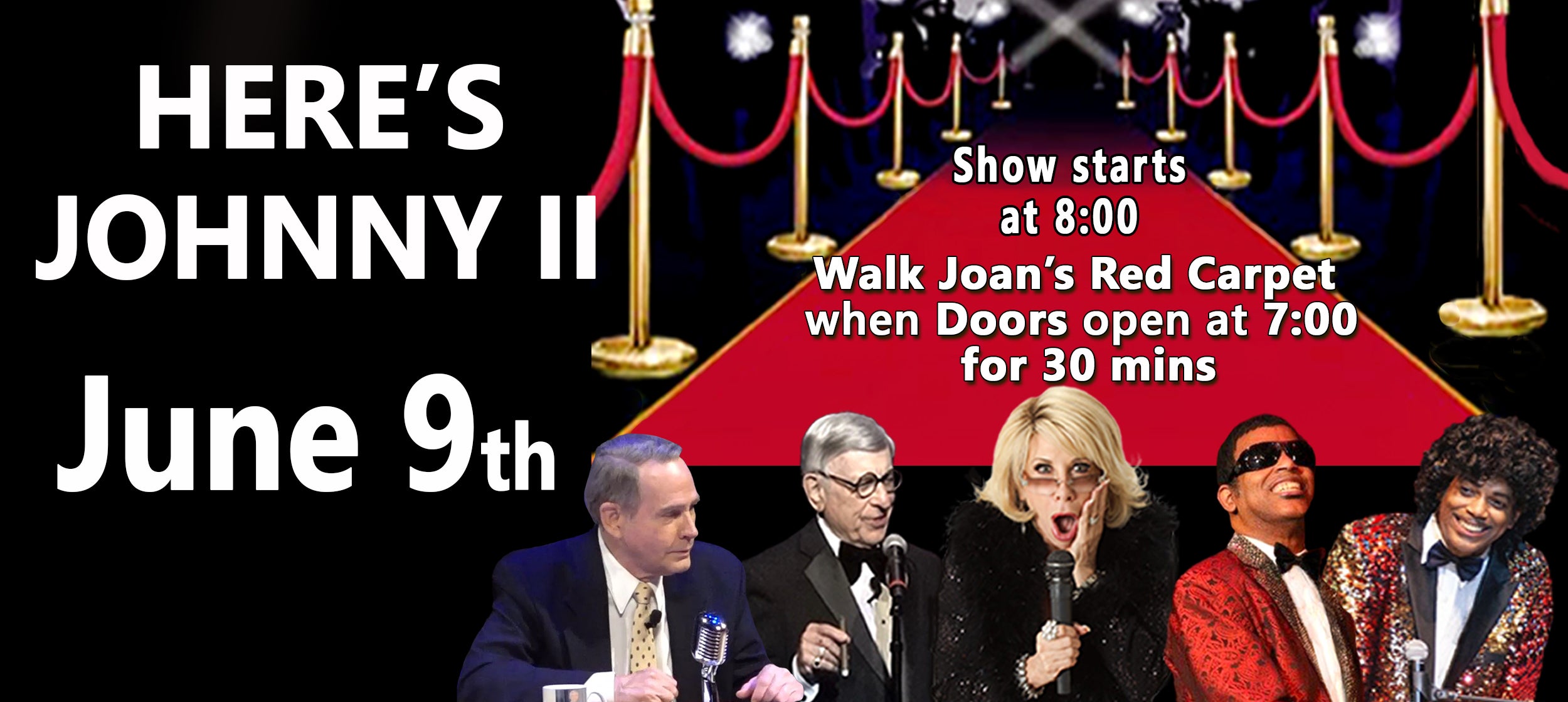 Here's Johnny II
Presented by AA Promotions
Here's Johnny II on Friday, June 9, 2023. Doors open at 7:00 featuring a "RED CARPET EVENT" with JOAN RIVERS from 7:00 to 7:30, the show starts at 8:00. Are you ready for some live comedy and Rock "N" Roll celebrating the magic moments of JOHNNY CARSON, JOAN RIVERS, GEORGE BURNS, RAY CHARLES and LITTLE RICHARD then come join us for a night of laughs and great music. Guaranteed to be a fantastic night!! Go to AA Promotions Facebook page for more info.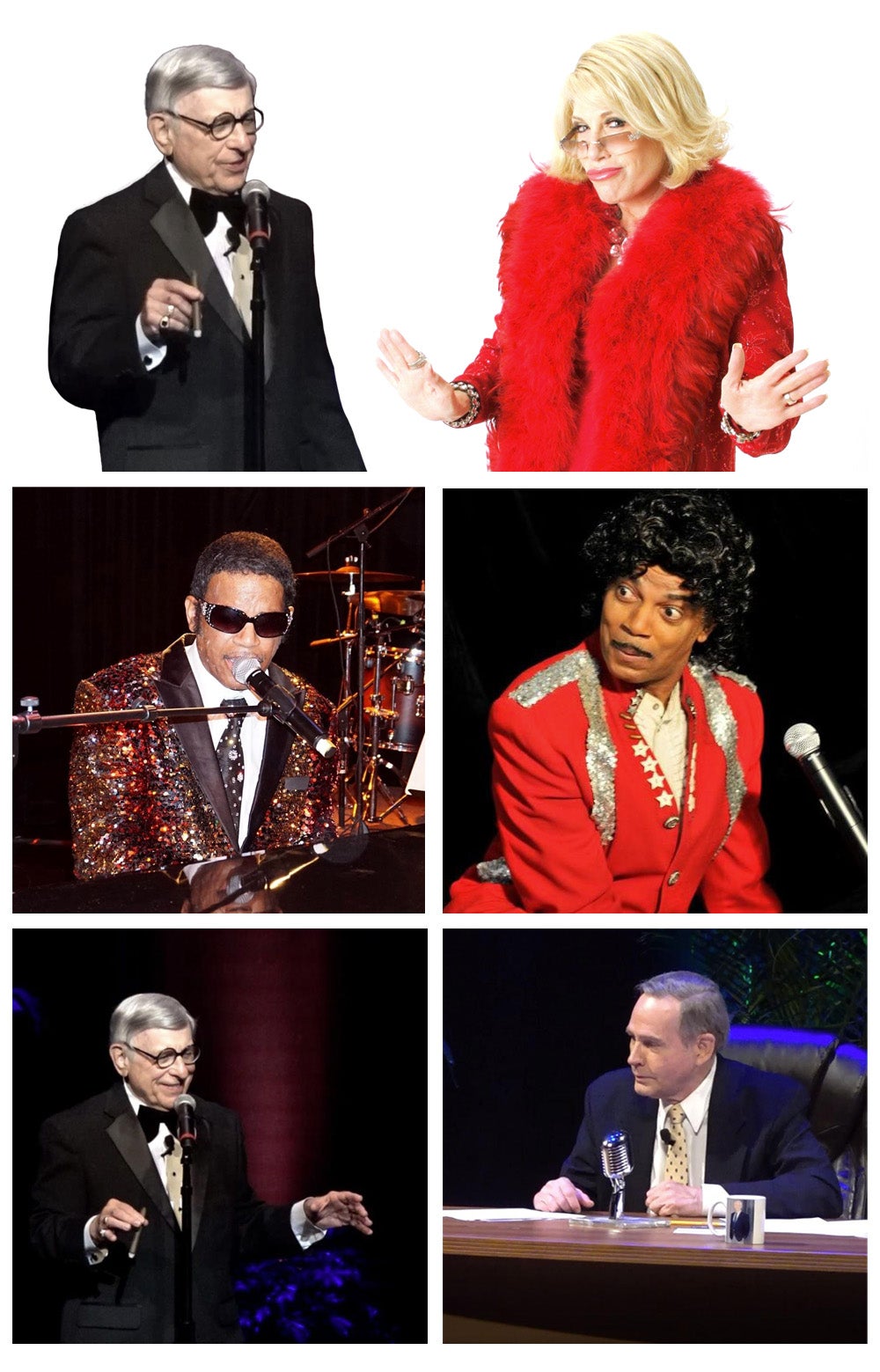 We are very proud to announce that PETE PETERKIN, Las Vegas, NV, one of the most versatile and exciting entertainers has joined our show. He will sing, dance and perform on a grand piano as Ray Charles and Little Richard. He was a finalist in "America's Got Talent", performed in the opening ceremonies for Super Bowl XXVII, top rated TV shows, headliner in "The Greatest Piano Men" at the Flamingo, Chicago production of "The Blues Brothers Revival", "Solid Gold Soul" at Wayne Newton showroom following Wayne himself. Performs throughout the US and other countries. A master of over 200 voices, plays 12 musical instruments, has written for the Four Tops, Temptations, Bruno Mars and more, and has a variety of dance styles.
JIM MALMBERG, Phoenix, AZ a nationally recognized Johnny Carson Impersonator since 1984. He looks like Johnny, acts like him and delivers jokes just like the real Johnny. Jim will open the show with Ed (Paul Bello), perform a short script of Carnac and interview each guest after their live stage performance. He is so comical with his guests and brings back so many memories. He recently performed as Johnny in the sold-out Palm Springs Legends III show at the McCallum Theater with a standing ovation.
DEE DEE HANSON, Orange, CA performs nationwide in theaters as Joan Rivers since the 1980's. She performed in front of Joan Rivers on National television and received compliments from her. Joan Rivers said, "the young lady who plays me and plays me so well is Dee Dee Hanson and you're just terrific!" She fools many over the years, making them wonder what is Joan Rivers doing here. Dee Dee has been impersonating Joan Rivers at red carpet arrivals for large corporate events on the West Coast. She makes the guests feel like the "Stars" of the evening with her Glitz and Glamour. The theater broke out in laughter throughout her spectacular performance at our past show at the Jefferson Performing Arts Center. She interacts with the audience and performs like the real Joan.
PETER SALZER, Del Ray, FL has toured the country for over 30 years as George Burns. When Peter walks on stage audiences see George Burns come back to life. He captures the look, voice and style of George Burns. He has performed in commercials, television and film. He is amazing, the audience at our past show at the Jefferson Performing Arts Center was in awe as he performed as George.